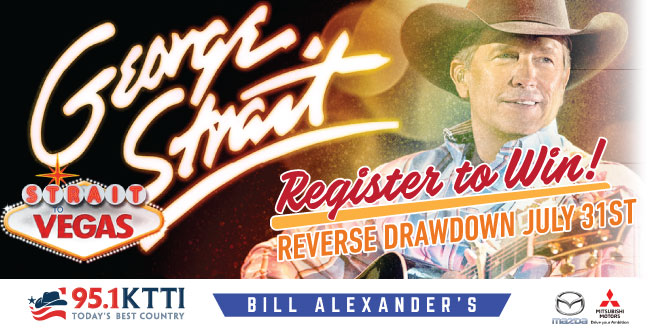 George Strait Giveaway
Anyone can come by Flightline Mitsubishi on 32nd Street in Yuma and register to win your chance to see George Strait in Las Vegas in August at T-Mobile Arena!!! Everyone who takes a qualified test drive at Flightline Mitsubishi will have an extra chance to win 1 of 5 pair of tickets to see George Strait!
Then on July 31st everyone who entered will join us at Flightline Mitsubishi for a reverse drawdown, where the last 4 names drawn will win a pair of tickets and a $100 gas card. The grand prize last name drawn will win a pair of really good seats, $250 gas card and a night at a hotel in Vegas to see George Strait!
But you can't win if you don't register, go by Flightline Mitsubishi today and get registered, take a qualified test drive and receive an added entry!
Schedule a Test Drive!
It's George Straight in Vegas and you can be there compliments of Flightline Mitsubishi.