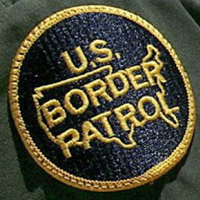 United States Border Patrol agents from the Yuma Sector seized 553 pounds of marijuana, seized 33 pounds of methamphetamine, and arrested seven people in three separate weekend incidents. Yuma Station agents working at an immigration checkpoint on I-10 seized 205 pounds of marijuana Friday worth an estimated $102,000. The marijuana was turned over to the La Paz County Sheriff's Office.

In another incident, agents searching a vehicle found 20 vacuum-sealed packages containing 33 pounds of methamphetamine valued at an estimated $389-thousand-dollars. The driver and drugs were turned over to the Drug Enforcement Administration.

In the third incident, agents were tracking a group of people Saturday near Sentinel who had entered the country illegally. Agents eventually located and apprehended six male Mexican nationals and seized seven bundles of marijuana. The marijuana had a combined weight of 348 pounds worth an estimated 174-thousand-dollars. The men and marijuana were turned over to the Maricopa County Sheriff's Office.