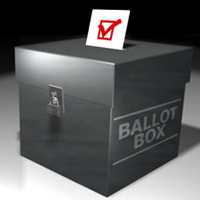 Voters in the city of Yuma will get set to head to the polls on Tuesday to elect three city council candidates. The six candidates have campaigned for several months for three Yuma City Council positions. The candidates include incumbent Paul Johnson and William Craft, Gary Knight, Jacob Miller, Daniel Sanchez and Gary Wright. Jack Kretzer has declared himself a write-in candidate. Mayor-Elect Douglas Nichols won the Mayoral race on August 27th during the city's primary election. Polls will be open from 6am-to-7pm Tuesday.

New Somerton Chamber Of Commerce President
The Somerton Chamber of Commerce has a new President. Hector Garcia was named recently. Garcia is a used auto dealer and also owns an entertainment business. The Yuma Sun adds he is joined by director Daila Camarillo and board treasurer Angela Gallardo.