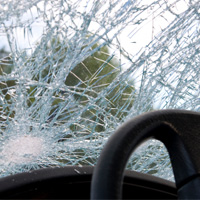 A local woman was transported to Yuma Regional Medical Center after her vehicle crashed into a canal in the Wellton area Tuesday morning.
According to the Wellton Police Department, the incident happened at about 9 a.m. as Diana Soto was driving a GMC Yukon Denali along South Avenue 28E, a dirt service road next to a canal just to the north of the Links at Coyote Wash.
"As she was driving, one of the tires brushed up against the dirt bank… which hugged the tire and yanked the steering wheel towards the canal," causing the SUV to veer into the water, said WPD Sgt. David Rodriguez.
After the SUV entered the water, it continued along the canal for about 100 yards before coming to a stop on its passenger side. Soto, who sustained non-life-threatening injuries during the crash, was able to exit the vehicle through the driver's side door and swam to the bank.
Emergency personnel with the Wellton Fire Department, Wellton Police Department and Tri-Valley Ambulance responded to the scene, and Soto was transported to the hospital.