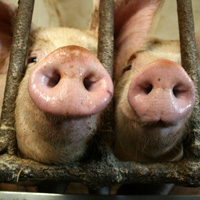 In a proposal to Tyson Foods, shareholders are asking the company – one of the world's largest meat and poultry producers – to find a little empathy when it comes to the pigs it uses for pork production. The company has no plans to phase out the use of gestation crates, which keep female pigs cramped in cages that are so small, the animals cannot turn around.

Lucia von Reusner is with Green Century Capital Management – one of the joint filers of the proposal – along with The United Methodist Church Benefit Board and the Humane Society of the United States.

Von Reusner says Tyson may be in danger of losing market share if it does not respond to customer demands for higher animal-welfare standards. Many of Tyson's competitors, such as Hormel and Smithfield Foods, have announced their company-owned facilities will be gestation crate-free by 2017, and Cargill is already 50-percent free of the crates.