The Yuma Police Department says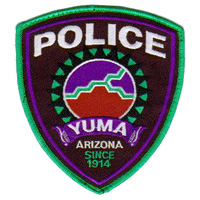 an arrest was made after a suspect hid inside a house for some time. Police say 33-year-old Alfredo Avalos was found to have an outstanding felony warrant. After police made contact with him on Saturday, he fled and hid inside a house near the 700 block of West Second Street.
The resident at the house gave officers consent to check the house for anyone inside. Officers on scene gave multiple commands for Avalos to exit the house which he refused to comply to. A police dog was sent into the house and he was taken into custody after the dog located and subdued him.
Avalos was treated at Yuma Regional Medical Center for injuries he received from being subdued by the Police dog and later booked into the Yuma County Detention Center for the outstanding felony warrant.

Board Of Supervisors Met On Monday To Discuss Energy Conservation
The Yuma County Board of Supervisors met on Monday and heard an update on the Marine Corps Air Station in Yuma. The Yuma Sun is reporting that Colonel Robert Kuckuck briefed the board on recent activities.
Kuckuck told the board that an environmental assessment will soon be underway to determine if an area of the Barry M. Goldwater Range is usable for the placement of a large solar field. The hope is that the field would assist MCAS Yuma in meeting some of the mandates they are facing from the Department of Defense in terms of conserving energy.