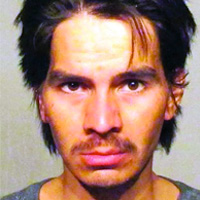 Officials say one person is in custody in connection with several fires intentionally set on Friday night. The Yuma Fire Department and the Yuma Police Department responded to several fires in the south end of Yuma. There were at least 12 fires set within one hour. During this time period Yuma County Sheriff's Office and United States Border Patrol personnel assisted with the search for the suspect.

A Yuma Police Department Officer responding to a fire in the area of First Avenue and Catalina Drive saw a male subject nearby and stopped him. The subject was identified as 27-year-old Antonio Salazar Junior and was taken into custody.
Detectives responded and began an investigation. Salazar was arrested and booked into the Yuma County Adult Detention Center for charges of Reckless Burning, Arson of a Structure, Arson of an Occupied Structure, and Criminal Damage. There were no reported injuries during the incident.