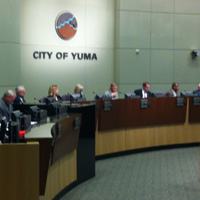 It is a new Yuma Mayor and three new members of the Yuma City Council today. Both Mayor Douglas Nicholls and new council members William Craft, Gary Knight, Gary Wright and new municipal judge James Coil were sworn in Saturday. They officially became members effective midnight on January 1st. Wright says this is all about the citizens of Yuma.

Members have already started their new year's resolutions. Knight is hoping for more jobs.

Their first official work session is to be held on Tuesday and the first meeting will take place on Wednesday at 5:30pm.