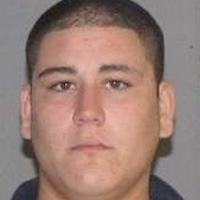 A man accused of kidnapping his eleven-month-old daughter is facing several charges. 23-year-old Raul Tejeda appeared in Yuma County Justice Court on Thursday facing 13 counts – including kidnapping, aggravated assault per domestic violence and endangerment per domestic violence charges. Tejeda allegedly took the girl from her home on Eighth Street in Yuma Wednesday morning after a dispute with the girl's mother.
When he arrived at the San Luis Port of Entry, he drove straight through a line of spike strips before quickly abandoning his truck. Investigators say he left his baby at his father's house in San Luis Rio Colorado, Mexico before escaping.
Tejeda was convinced by family members in Mexico to turn himself in to American authorities. He is currently being held on a 100-thousand-dollar bond.