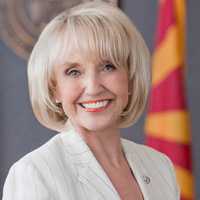 Gov. Jan Brewer announced Wednesday she will not seek another term in office, an effort that would have required a long-shot court challenge to the state's term limits.
"There does come a time to pass the torch of leadership," Arizona's Republican governor said. "After completing this year in office, I will do just that."
Brewer made the announcement on her home turf, at Park Meadows Elementary School in Glendale, at an event attended by students and current and former Brewer staffers. A banner hanging behind the podium read "Champion of the Arizona Comeback."
Asked whether her discussion of running again is merely a tactic to stay relevant, Brewer responded, "Well, I've got a lot of people that can suggest a lot of things. It is what it is.