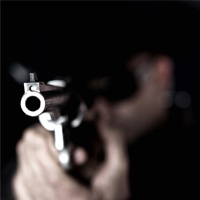 The four suspects charged in connection with an armed robbery of the Stilettos strip club last month pled not guilty in court Monday according to our television partner KYMATV. Deputies say victims told them that on August 23rd, two men wearing black ski masks went in through the back door into the manager's office. The victim says one suspect held a handgun to the victim's head, demanded money, then got away. A grand jury has indicted the four 23-year-old suspects. Three of the four suspects are charged with armed robbery, aggravated robbery and aggravated assault.

Dante Hubbard, Brianna Diaz and Jacky Muldrew pled not guilty to those felonies. While Diaz and Muldrew remain behind bars on a $100,000 cash only bond, Hubbard is being held on a bond of more than $219,000. Hubbard was on the run for several days before being caught. He also had a felony warrant out for his arrest stemming from a separate case.

The fourth suspect, Brittnie Roach, pled not guilty to one count of hindering prosecution. She is being held on a $20,000 bond.