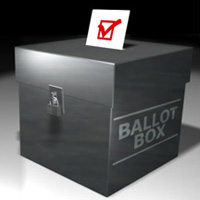 The final unofficial numbers from Tuesday's primary election have been released. A total of 7801 ballots were cast. In the Mayor's race, Douglas Nicholls won with 5291 votes, Raul Mendoza garnered 22 13 votes and write in candidate Jack Kretzer received 82 votes. In the city council race, no candidate received 50% plus one votes to clearly make them a winner. The top six vote getters out of the eight candidates will move on to the General Election November 5th. Gary Knight led all candidates with 32 41 votes, incumbent Paul Johnson with 3220 votes, Gary Wright with 3014 votes, William Craft has 2720 votes, Daniel Sanchez with 2074 votes and Jacob Miller garnered 1565 votes. Keith Parsels has 1169 votes and Lukas Abplanalp gained 799 votes.

Both of those candidates will be eliminated. In the
Presiding Municipal Judges race, James Coil won with 4377 votes and Dale Wren had 28 41 votes. Interestingly, in 8% of the ballots, no votes were cast for the Municipal Judges race.