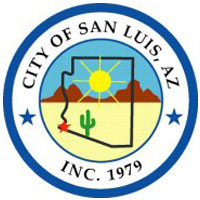 The City of San Luis has one seat open for a member of the community to become a member of thePlanning and Zoning Commission. Individuals interested to serve the residents of the City of San Luis will need to submit an application and can either call or come to City Hall in person.

The primary role of the Planning and Zoning Commission is to advise the Mayor and City Council as well as City Administrative Staff on matters related to the orderly growth of the City, particularly in areas concerning the safety of all community residents, all while preserving their private rights as citizens. The Planning and Zoning Commission consists of seven members who serve voluntarily a four-year term. The Commission collects data and keeps itself informed as to the best practices generally in effect in matters related to city planning and zoning to the end that it may be qualified to act on measures affecting the present and future movement of traffic, the segregation of residential and business districts and the convenience and safety of persons and property in any way dependent on city planning and zoning.

Please contact Roman Pacheco for further details at 928-341-8563 or email at rpacheco@cityofsanluis.org.