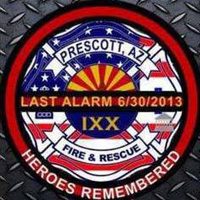 The city of Prescott has denied more than 100 damage claims seeking a total of $662 million by property owners and relatives of firefighters who died in the Yarnell Hill fire.

91 property owners filed claims and 17 additional claims were filed by relatives of Granite Mountain Hotshots who died on June 30th 2013. 19 members of the elite hotshot crew died when winds shifted during the Yarnell Hill Fire and trapped the men in a brush-choked bowl after they left an area already burned.

More than 100 homes were destroyed in Yarnell, northwest of Phoenix. A Phoenix law firm representing Prescott says all of the claims are without merit and the city is not liable because it did not act intentionally, recklessly or negligently. The claims are precursors to possible lawsuits.